This fic was originally posted on February 6th, 2006, as a birthday gift for

setissma
. She and Linn have kindly allowed me to repost it here. The fic itself was written, with conceptual assistance from Linn, by myself. The splendid art is by

linnpuzzle
.
Summary
: Remus gets everything he asked for on his sixteenth birthday and then some.
Warnings: None
Also available
at AO3
.
Better Than A Bobble Hat
Remus didn't really start to worry until the blindfold went on.
Birthday pranks were
de rigeur
amongst the Gryffindor boys, particularly when the older boys played them on the younger ones. No one dared play a prank on Sirius, because Sirius had a temper, but Peter had been fair game for the boys a year above them since they'd started school. Even James occasionally got conned, though the only year he really fell for the prank it had been Remus' idea.
So, Remus had been expecting a prank from James and Sirius, since it was an unspoken law that Remus -- underfed, sickly, scholarly Remus who was always a year older than everyone because he'd had to start late -- Remus was off limits, the pet of Gryffindor, the single person that anyone in the House would rally round if necessary. Remus had no enemies in the House. Oh, he had competitors: Evans hated when he beat her at Charms and the Quidditch jocks always made fun of his complete fumble-handedness with a broom. But let a Hufflepuff join in the laughter or a Slytherin make a remark and a stony Gryffindor wall was raised.
Remus was easy to love. He worked hard at making this so.
James and Sirius and Peter saw through that, though. Remus was always amazed that they were still his friends even after not only crushing his careful facade but discovering his secret as well. On the other hand, since they did see through it, they had no trouble pranking him and did so more or less constantly, in the spirit of older brothers. Remus loved them dearly, the pranks, because they made him feel normal.
But blindfolds weren't on. Who knew what someone could do to you if you were blindfolded?
Sirius' fingers -- it had to be his, since he could hear James off to his left and Peter wasn't tall enough -- Sirius' fingers gripped his shoulders and spun him around a few times. He laughed over the anxious pound of his heart, the nerves he tried to tell himself he didn't feel. Finally he was stopped and dizzily led forward.
"Stairs," James said, but neglected to tell him whether they were up or down; he put his foot out to test and a flashbulb popped.
"Oi! No cameras!" Remus cried.
"Scrapbook," Peter called. Remus descended at least one flight, probably two, then ascended one and went round a corner -- they were in the, what, the north wing now? No -- paving stones! The courtyard!
"Stop," Sirius said in his ear, wrapping an arm around his chest from behind to physically halt him. Remus breathed in the smell of Sirius' soap and sweat. His face burned, a reaction that he used to get with James but lately had found dominated by Sirius. James was untouchable and perfect, after all, and why even try?
Why try for Sirius, either? And yet while he'd been able to stifle some kind of misguided crush on James, his odd reaction to Sirius hadn't been so easily eradicated. Sirius got under his skin. He was reckless and could be cruel if he wasn't thinking, but he was kind, too, and honest and a stand-up bloke.
A cloak was settled around his shoulders and he walked forward again. Dirt and grass under his feet now, he could smell them. The night air was crisp and cool.
The light filtering through his blindfold was a shade darker now, and he guessed that they must be in the Forest or on the high road through the Forest to Hogsmeade. Any minute now he expected to put one foot forward and fall into the lake, except James and Sirius would never be that unsubtle.
Without eyes, his other senses sharpened; he could hear Peter breathing on the right, James tossing something up and down in his hand on the left. Sirius was still behind him, fingers on his shoulders, breath warm on his neck.
"What is this, a bloody snipe hunt?" he asked.
"Birthday present!" James sang out.
"Pneumonia is not a birthday present! It's an infectious disease!"
"It'll be worth it."
"Oh Christ, you're not taking me to Madam Monique's, are you?
Syphilis is an infectious disease too!
"
"Swearing like a Muggle is an affectation the world can live without," Sirius intonted, in a precise imitation of Professor Slughorn.
"Tell me, what is swearing like a sailor?" Remus asked sweetly.
"We're almost there, Moony; keep it down or we'll be caught," James warned. "A year's detention is
definitely
not a birthday present."
They stopped abruptly; Remus heard James and Peter's feet cease to crunch on the leaf-strewn ground, and he was stopping even before Sirius grabbed him again. There was a sort of soft whooshing noise, and then Sirius had released him.
"Stand still; I'm going to take your blindfold off," he said. Remus obediently stood still and waited for the cream-pie-inna-face that he fully expected.
Instead he stood blinking in the half-moon light, in a clearing somewhere deep in the forest. His whole body stiffened.
Sirius was standing off to one side, holding the blindfold. In front of him, almost close enough to touch, was a tall yearling buck, not quite fully grown but with a respectable start on a set of antlers, still covered in velvety skin.
Remus tried not to breathe. It was a beautiful creature, perfectly formed, with deepset intelligent eyes -- not at all like the inbred city-adapted berserker deer that used to menace his father's property. The only flaw that he could see was an odd tumour on top of the animal's head, just to the side of his ear --
He watched in amazement as the tumour moved and unfolded itself, stretching out into a mass of fur and tiny claws and bright, keen eyes. A rat was seated on the deer's head, clinging with one paw to the stalk of an antler.
"Sirius," he breathed without moving, "Where did James and Peter go? What is this?"
He turned to look when Sirius didn't reply, but Sirius was gone too. Instead there was a young bear a few feet off, an enormous gloomy shape in the shadows.
It
had
been a snipe hunt. They'd led him out here and gotten him lost, and Sirius must have done a runner when he saw the bear (which was unlikely but Remus would have too, so who was to say) and now he was stuck between what probably
was
a berserker deer and a bear.
He began to back away, slowly. Bears had a chase instinct, didn't they? If he moved very slowly...
The rat
leapt
from the deer's head, landing claws-tight in his shoulder as he turned to avoid it. He yelped and tried to brush it off but it clung on grimly, and suddenly thank god Peter was back because those were Peter's hands on his cloak right where the rat....had...
Remus looked up. Even as his head turned he saw the deer and then he saw the deer start to shift and twist and melt and after a second James was standing there, cracking his shoulders and shaking his head as if to shift an unpleasant thought. The bear lumbered forward and knocked James over, but it wasn't a bear at all, it was a big black slobbering dog, an impossibly enormous dog --
Remus dropped to the dirt with a soft
whump
as the dog went through the same awkward shifting process until Sirius stared at him from where he was seated on James' chest.
"Geroff me!" James said, shoving Sirius. He leapt up from the dirt and pounced on Remus, ruffling his hair.
"Happy birthday, Moony!" he cried, and Sirius crawled forward to sit in front of him, looking terribly pleased with himself.
"Humh?" Remus asked, looking bewilderedly around at them.
"Aren't you pleased?" Peter inquired.
"Um?"
"He's pleased," Sirius proclaimed.
"
What in the bloody fuck is going on?
" Remus managed.
"Maybe he's gone mad," Peter said doubtfully.
"We're animagi!" James said. "Like Professor McGonagall. We reasoned, well, Sirius reasoned that if werewolves only attack people, what you want are best pals who aren't people at all."
"So that you're not alone," Sirius added. "Now, granted, that was back in second-year and I will be the first to admit that twelve year olds are not
generally
brilliant geniuses, but I think my theory has held up to study. Are you pleased? Say you're pleased."
Remus looked around him wildly. "Animagi? What? Doesn't that take years?"
"Took
us
years," James agreed. "We've been working on it since third year."
"But....look, all I wanted was a Puddlemere United jumper!"
"Oh, we got you that too!" Peter said, leaping to his feet and running off into the shadows.
"He'll get killed!" Remus cried.
"No he won't. Sirius scentmarked every inch of the clearing and what he missed I took care of. Sufficiently confuses just about anything that comes by," James assured him. Peter reappeared with an armful of squashed presents.
"I mean, it's not...well, like, Animagery is for life, not just for birthdays," Sirius continued. "But we thought you'd like it as a present, you know. Not every day our Moony turns sixteen!"
Remus stared at him. They had all gone mad.
"For me?" he whispered.
"Remus," James said. Remus turned around to look at him and took a cream pie flat in the face.
Nothing like James Potter for breaking the tension.
***
After they'd sat and talked about animagery and had several re-enactments of botched attempts, cleaned up the cream pie and eaten the remains, after Remus had opened his "proper" presents and put on the new jumper with matching gloves and the Gryffindor bobble hat, after he'd exclaimed over the set of quills and inks and two tins of loose-leaf tea, they'd reluctantly trekked back to the castle and promptly indulged in the tea to warm themselves up. Remus, in a sort of half-aware bliss, pressed some of his birthday tea on everyone who came into the common room and ignored the quizzical looks garnered by his muddy trousers.
He couldn't even fathom what they had done, as they climbed the stairs to their room and got dressed for bed. They had changed themselves, had altered the absolute shape of their bodies. According to some theories, they'd consciously rewritten their DNA.
All this from three boys who, collectively, could not have washed their own underthings if they had an instruction manual. It boggled the mind. And they'd done it for him.
Sirius, an enormous black dog who looked as though someone had taken a labrador and crossbred it with a bear, padded lightly across the room and rested his furry head on Remus' footboard. Remus smiled and leaned forward to scratch him behind his ears. He was rewarded with the sound of his tail thumping back and forth on the floor.
"Let me guess," he said. "You're a dog because you know you're not allowed on the furniture anyway?"
A huge doggy grin and a drooling tongue met his insult with cheerful optimism.
"All right, up you come," he said softly. Peter was already asleep; James was at least halfway there, to judge by the breathing which was more snore-like by the second. The bedsprings creaked alarmingly as the dog leapt up on the bed. Impulsively, Remus leaned forward and wrapped his arms around the dog's neck, pressing his face against the silky fur just below his ear.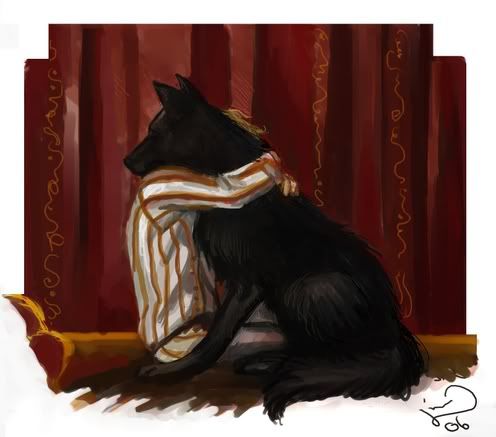 "You're marvelous, Sirius," Remus said into his neck. Sirius whined, so Remus let him go and leaned backward, already embarrassed at his show of emotion. "Can you still see in colour?" he asked, to change the subject.
The dog sneezed, and in the process snapped back into a human shape.
"Nope," Sirius said, sitting up and crossing his legs. "Things
smell
in colour, though. You smell blue."
"I do not!"
"Sure you do. Peter's worse, he smells pink. I wonder about him."
Remus laughed softly. "What about James?"
"Bright orange. McGonagall smells black."
"I figured
you
would," Remus grinned. "Smell black, I mean."
"Dark green." Sirius' voice was soft, oddly regretful. Then he grinned suddenly, almost maniacally. "Hey, I have another present for you."
"Sirius, really -- "
"No, this is a good one. I made it myself. But you have to put the blindfold on again."
Remus half-sighed and accepted the scrap of cloth from Sirius, tying it tight against his head under shaggy brown hair.
He felt Sirius' hands first, squaring his own shoulders and then lifting his chin slightly. He thought he felt one finger drift over his cheek, but he could have imagined it; perhaps it was the blindfold rubbing there.
"Sirius, come on," he said playfully. "What are you up to? Not another pie, is it?"
"No," Sirius said, sounding oddly breathless. "Stay still, close your mouth."
"Close my -- "
"Close your mouth," Sirius repeated, so Remus did.
There was the barest of hesitations. Remus heard Sirius inhale and smelled him as he had earlier, the scent now intermingled with the deep earthy smell of tea -- and mud. An incomplete portrait, until...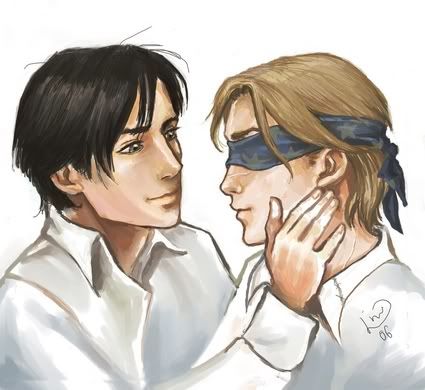 Sirius' hands cupped his face, thumbs along his jawline, fingers warm on his cheeks. He almost started back at the sudden touch. Then he felt warmth as Sirius leaned forward, heard him draw another breath, and kept very still as warm pressure touched his lips.
Sirius was kissing him.
His hands lifted off the blanket where they'd been resting but he didn't know what to do with them so they hung there, fingers vaguely outstretched in Sirius' direction, as his head was tilted further forward and Sirius kissed him a second time on the upturned corner of his mouth.
"I've been waiting to do that for two full years," Sirius said against his cheek.
"Poofter," Remus replied. Sirius laughed, but it was a shuddering, fearful thing. Remus groped one hand along his arm and held him where he was, their heads bowed, cheeks pressed together. "It's fine, Sirius. It's fine. It'll be fine."
He reached up and pulled the blindfold off. Sirius was looking at him with impossibly dark eyes.
"Best birthday present ever," Remus said.
"Better than your bobble hat?"
Remus laughed. "Yeah. Better than the bobble hat." He leaned forward, speaking quietly. "Better than three underage animagi."
Sirius caught his breath.
"Better than tea and quills and a Puddlemere United jumper," Remus continued. "Best ever."
But that was a lie, really. Best ever was what happened right after that, when Sirius looked down at his hands and a brilliant smile spread over his face.
END